Wearables for the Visually Impaired & Blind all the Rage in the CSUN Exhibit Hall. Assistive Technology manufacturers from around the world featured their wares.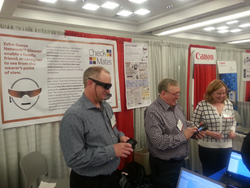 Echo-Sense CheckMates Booth at CSUN Conference
'Our unique advantage is the ability to stream over cellular networks,' said Haden Etheridge, from Vizion Partners.
San Diego, CA (PRWEB) April 30, 2014
Representatives from agencies that serve the blind and visually impaired, assistive technology specialists, and blind consumers from around the world had the opportunity to get a live demonstration of Echo-Sense CheckMates Network Glasses – Wearables for the Blind – at the CSUN 29th Annual International Technology and Persons with Disabilities Conference in San Diego, CA. According to the World Health Organization there are approximately 285 million people in the world who are visually impaired, of whom 39 million are blind.
Florida Reading and Vision Technology Inc., leading national retailer of assistive technology for the blind and those suffering from low vision, is proud to participate in this annual event. "I love participating in the CSUN conference as it allows me to get feedback from around the globe as to the value of a new product," states Lesa Kretschmer, CEO of Florida Reading and Vision Technology, Inc. "This international event also provides individuals the opportunity to take part in bring innovation to the blind & visually impaired community."
Echo-Sense CheckMates Network Glasses enable the wearer to connect to family, friends, and colleagues via the cellular network or WiFi access point to a VPN server. The server reflects the live video and audio streams to the observer, who is connected and signed on the Echo-Sense monitor site. This live stream is viewed on a desktop, laptop or mobile device. The wearer's location and orientation is superimposed on a Google map, and real-time streaming audio and 120 degree view from the glasses of the wearer's perspective. The person monitoring or viewing the site can see events as they unfold, and also instruct the wearer to perform certain tasks such as navigation guides whereby insuring their comfort and safety.
"Our unique advantage is the ability to stream over cellular networks," said Haden Etheridge, from Vizion Partners. "I have a whole new understanding of the value of Echo-Sense CheckMates after getting to witness first hand testimony of so many people who are blind, and who are getting to try them for the first time," he said.
"Does this mean my mom can call me when she is at the mall and I will be able to tell her how to get back to the bus stop so that I won't have to go pick her up?" said Shelley, whose elderly visually impaired mother lives with her. CheckMates developer, Milan Slamka of Echo-Sense, Inc. was quick to tell her, "Yes, and this is just the beginning of the increased independence she will have by using CheckMates when she is out of her comfort zone or needs a little extra guidance from a trusted family member or friend."
Stephen, a prospective distributor commented, "CheckMates would allow my visually impaired technicians to call in when they need that extra bit of assistance like a back up set up eyes, saving the expense of a second technician having to fly across the country to be on-site in a timely manner!"
Florida Reading & Vision Technology's team includes developer, Milan Slamka, Echo-Sense, Inc., and Vizion Partners.
Echo-Sense has developed critical IP that will revolutionize the way connectivity and real-time video can be delivered over mobile cellular networks and WiFi Access Points. Echo-Sense IP is summarized in four (4) US patent applications and two (2) International PCT's. Echo-Sense development are direct reflection of working through a series of International experts in DSP's/Customer ASIC's, FL, Acoustics, Firmware/Software and Electronic Architecture and relationships with worldwide leading experts at leading universities from around the globe.
Founded in 2000, Florida Reading & Vision Technology Inc. has grown into a thriving e-commerce business offering more than 600 products to the blind and deaf populous. Already this year, CEO Lesa Kretschmer and her team have launched several new low vision and blindness products, hosted several Train the Trainer Clinics, and has begun traveling nationwide to promote Echo-Sense CheckMates Network Glasses.